CITGO Refinery Worx
Welcome to our app, where you can discover the CITGO Refining Process.
Discover the Refining Process Through Augmented Reality (AR)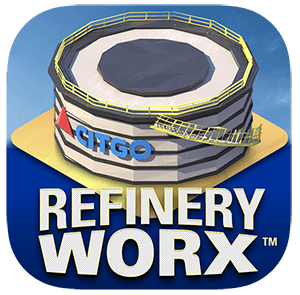 Augmented reality brings the refining process to life in the newly launched CITGO Refinery Worx app. While designed to teach kids about the refining process and the scores of everyday products derived from it, the app has an even bigger purpose in mind: inspiring students to pursue Science, Technology, Engineering and Math (STEM) related career paths as part of the Company's STEM Talent Pipeline program.
Working with students and observing how they absorb information was the inspiration for a fresh approach that can be easily shared using a mobile device. Through the app, users can discover how crude oil provides the fundamental ingredients for common household items like toys, cellphones, and makeup. As users navigate through the refinery, they can discover how products as diverse as jet fuel and road asphalt come from the same sources.
The app can be easily downloaded for free to any mobile device or tablet.