Education
Education is vital to long-lasting community sustainability. We support educational and social initiatives that create meaningful impact while addressing some of today's biggest societal barriers.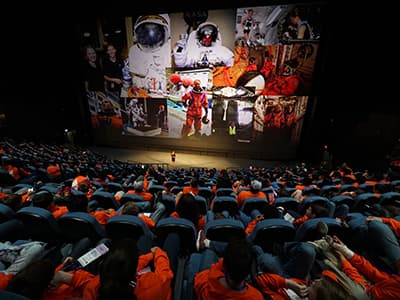 CITGO STEM Talent Pipeline
Nurturing a Path for Opportunity
Our STEM Talent Pipeline program aims to increase access to Science, Technology, Engineering and Math (STEM) related educational opportunities by supporting and encouraging students to pursue STEM degrees and career prospects, so they can become a qualified pool of job candidates. Launched in 2016, the program seeks to meet the following objectives:
Raise awareness of the importance of STEM education and the numerous pathways to careers in STEM amongst students, teachers and counselors;
Support programs working to increase student interest, retention and graduation rates, particularly at the high school and post-secondary levels;
Prepare students for STEM technical and university-level programs; and
Encourage CITGO employees to share their knowledge and experience with students and young professionals.
The program provides grants to schools and educational organizations near our operational areas including Houston headquarters and our three refineries in Lake Charles, Louisiana, Lemont, Illinois and Corpus Christi, Texas. We also provide scholarships for students pursuing higher degrees in STEM fields.
Distinguished Scholars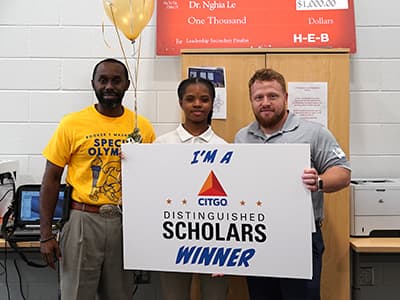 We proudly support higher education opportunities for students pursuing degrees in any program.
Our goal is to encourage young adults keen to develop careers that have a direct impact on their communities.
Additionally, we provide scholarship opportunities to deserving high school students who are dependents of CITGO employees and retirees. Under this scholarship program, each CITGO scholarship recipient must meet rigorous qualification criteria and be at the top of their class.
Bess the Book Bus
CITGO is proud to support literacy and inspire a love of reading in young children of all backgrounds. 2019 marked the ninth year of partnership between CITGO and Jennifer Frances, the founder and driver behind Bess the Book Bus. This mobile literacy outreach program seeks to broaden access to books for all children, despite family income level, and break down barriers to education. Each year, Frances drives around the U.S. and stops at certain locations, including libraries and schools, to distribute books. As a sponsor of Bess the Book Bus, CITGO donated $30,000 to support the mission as well as $3,000 in gas cards, and provided CITGO-branded bookmarks and bags in which to hold books for the children. Over the course of the year, Frances made 346 stops at 236 CITGO locations to hand out books, covering 83 towns in 22 states.