Safety
Safety is a CITGO core value that shapes our daily decisions at every level.
Our visionary goal of zero injuries, illnesses, and incidents is known as Operational Excellence.
The CITGO Safety Culture
To reach our vision of zero incidents, CITGO established a safety culture focused on delivering superior performance along with a commitment to safe workplaces for ourselves, our families and our communities. CITGO team members are:
Informed
They collect and analyze relevant data to stay informed of HSE performance and trends.
Reporting
They are confident to report HSE concerns without fear of blame.
Learning
They learn from opportunities and make changes to eliminate or minimize risks.
Flexible
They are able to adjust our path, while remaining focused when faced with a dynamic and demanding task environment.
Committed
They understand the boundary between behaviors considered acceptable (safe) and unacceptable (at risk) and act accordingly even when no one is watching.
Action-Oriented
They are empowered to intervene during day-to-day activities whenever HSE requirements may not be clearly met and support each other in our obligation to Stop Work when risk is considered unacceptable.
10 Life-Critical Safety Rules
These rules enhance our safety performance and are specifically focused on reducing risks of serious incidents while performing critical activities. They are based on our health and safety standards and are a powerful tool to communicate critical requirements to our employees and contractors.
Every employee and contractor is required to learn all 10 rules, use them every day, and make them a regular part of our safety dialogue.
Safety Awards & Highlights
An incident-free workplace is achievable and expected.
CITGO
2019 API Distinguished Pipeline Safety Award
Union Pacific Railroad Pinnacle Award forChemical Transportation Safety
BSNF Railroad Product Stewardship AwardLake Charles
Lake Charles
2020 AWO Inaugural Safety Award, American Waterways Operators' Tankering and Barge Operations Subcommittee
Lemont
2020 CN Railway Safe Handling Award for zero nonaccidental releases of hazardous products during the year
2019 AFPM Elite Gold Safety Award
Corpus Christi
2020 International Liquid Terminals Association's Platinum Safety Award
2019 ILTA Safety Excellence Award
ILTA 5-Year Safety Excellence Award
2019 American Petroleum Institute (API) Distinguished Pipeline Safety Award
2020 AFPM Safety Achievement award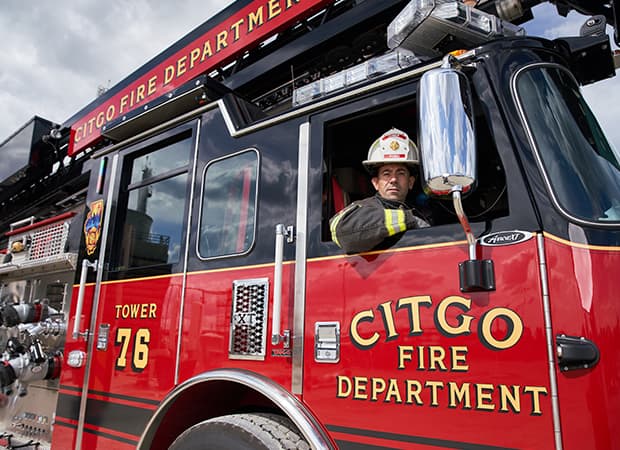 Emergency Preparedness
CITGO employees are ready to manage emergency situations and remedy it thanks to our extensive training drills. In accordance with all regulatory requirements, we make emergency preparation a regular practice to mitigate impacts to our team, our assets, the environment and our neighbors.
We also confirm that our equipment is reliable and can withstand the demands of an emergency situation.
Learn More in the ESG Report