Benefits
The CITGO Rewards® Card is great for everything automotive, from gas to repairs! When you open a CITGO Rewards Card account, you will earn 30¢ on every gallon1 of CITGO fuel, in CITGO Rewards, for the first 60 days. After 60 days, earn 5¢ on every gallon1 in CITGO Rewards statement credit depending on dispenser configuration at each CITGO location.
Plus, you will have access to Synchrony Car Care™ for help with managing auto-related expenses, from everyday care to major repairs.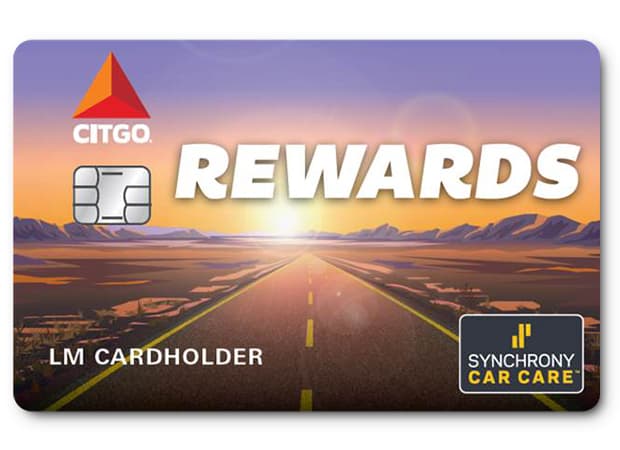 Check out these other card benefits:
No limit to the amount of rewards you can earn
Synchrony Car Care acceptance at over 1,000,000 auto merchant locations nationwide,2 including parts, repair, services and more
6 Months Promotional Financing available every day on purchases of $199 or more3
EMV chip technology to help keep your card more secure
Ability to add Authorized Users to your account4
Pay-at-the-pump convenience
Online account management with features such as account alerts, auto pay, ebill statements and 24-hour access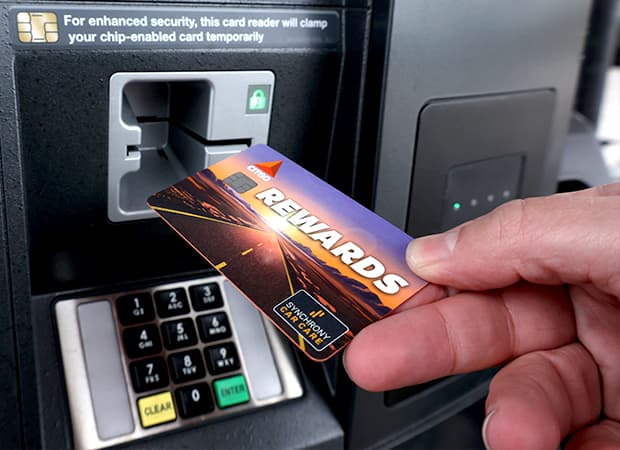 How To Apply
Call 1-800-GO-CITGO
Text "apply" to 554685
Complete an application at your neighborhood CITGO location. Find the one nearest you.
Rewards Credit Card FAQs
Applying For a CITGO Rewards Card
CITGO offers both personal and business payment cards to meet your needs. The CITGO Rewards Card is a credit card for the typical consumer looking to save. The CITGO Gift Card is suited for people who want the ease and freedom of cash in one card.
Business cards such as CITGO Fleet, CITGO Fleet Select, and CITGO Fleet Universal work well if you operate a fleet of vehicles.
To apply for a CITGO credit card, you must be a U.S. resident and 18 years or older. You must also have approved credit history and income verification.
Once you have determined what card fits your needs, select the apply button online, complete the requested information and submit your application, or pick up an application at any CITGO location.
Your credit limit will be based upon your yearly income and credit report score. This limit will be noted on your credit card welcome kit as well as on your monthly statements.
You may receive an instant response or we will notify you by U.S. Mail within 30 days regarding the status of your account, or you may call for application status.
Using Your CITGO Rewards Card
Yes. You'll find card-specific customer service phone numbers here, or you can call the number found on the back of your card to request additional cards.
Yes, this convenience is available at most of our CITGO-branded locations.
The CITGO personal accounts are revolving, which allows you the flexibility to pay the full amount each month. The CITGO business accounts are non-revolving and must be paid off at the end of each term.
Your CITGO credit card is valid at any CITGO-branded location, so look for the sign or visit our location finder to find the location nearest you or to help plan your next trip.
1,2,3 Subject to credit approval.
1 See the CITGO Rewards Program Terms for details on earning and redeeming CITGO Rewards.
2 Valid everywhere Synchrony Car Care™ is accepted in the U.S., including Puerto Rico. Click here for merchant locations. Acceptance of the Synchrony Car Care™ credit card is also determined by the merchant category code (the "MCC") associated with the merchant. An MCC is a four-digit classification code that is assigned to a merchant by the merchant's payment card network or merchant processor based on the predominant business activity of the merchant. Synchrony Bank does not assign nor has responsibility for the assignment of MCCs or evaluates what MCC should be assigned to a particular merchant.
3 Minimum monthly payments required. Click here for Promotional Financing details and merchant locations. Gas station purchases are not eligible for Promotional Financing. Promotional Financing is available at auto merchants where Synchrony Car Care is accepted. Promotional Financing is automatically applied to qualifying purchases by Synchrony and is reflected on the account statement. No additional action is needed by the cardholder nor the merchant.
4 The Primary Cardholder will be liable for all purchases made on the Account, including those made by an Authorized User.
5 Text message and data rates may apply. Check with your service provider.