LEMONT, Ill.—Feb. 25, 2022—The CITGO Lemont Refinery presented the Greater Joliet Area YMCA with a generous $7,500 donation at the Galowich Family YMCA on Houbolt Road in Joliet. The donation will support the YMCA's Mission Strong Fund helping ensure that no one is turned away from the Y due to inability to pay.
"CITGO is proud to continue partnering with the Greater Joliet Area YMCA," said Dennis Willig, CITGO Lemont Vice President and General Manager. "We support the Y's mission of strengthening our community through Youth Development, Healthy Living, and Social Responsibility," Willig added.
"We are so grateful for CITGO's generous support of the Greater Joliet Area YMCA and our 2021 YMCA Gala," said Chief Executive Officer Katy Leclair. "CITGO has a long history of supporting initiatives in our community, and has been a wonderful partner of the Y for many, many years. We are humbled by CITGO's continued support of our mission and the communities we serve," added Leclair.
The Greater Joliet Area YMCA has been serving families from throughout Will County and its surrounding areas since 1926.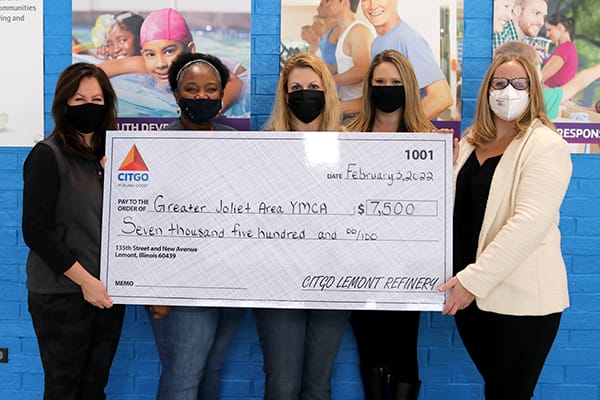 About CITGO
Headquartered in Houston, Texas, CITGO Petroleum Corporation is a recognized leader in the refining industry with a well-known brand. CITGO operates three refineries located in Lake Charles, La.; Lemont, Ill.; and Corpus Christi, Texas, and wholly and/or jointly owns 38 active terminals, six pipelines and three lubricants blending and packaging plants. With approximately 3,300 employees and a combined crude capacity of approximately 769,000 barrels-per-day (bpd), CITGO is ranked as the fifth largest, and one of the most complex independent refiners in the United States. CITGO transports and markets transportation fuels, lubricants, petrochemicals and other industrial products and supplies a network of approximately 4,400 locally owned and operated branded retail outlets, all located east of the Rocky Mountains. CITGO Petroleum Corporation is owned by CITGO Holding, Inc.