LEMONT, Ill., Feb. 22, 2022—The CITGO Lemont Refinery recently presented The American Red Cross with a $5,000 donation. According to Dennis Willig, CITGO Lemont Vice President and General Manager, "We are excited to partner with great organizations like the Red Cross that allow us to help our neighbors in need."
In addition to the generous donation, CITGO will host a blood drive in May for employees and contractors working at the refinery. According to the Red Cross website, every two seconds, someone in the U.S. needs blood. Blood donations from the CITGO blood drive will be used to help all types of patients, from accident victims to those undergoing heart surgery or battling cancer. In addition to the blood drive, CITGO employees will also participate in the Red Cross Sound the Alarm event in May, installing free smoke detectors for residents.
Brian S. McDaniel, Executive Director of The American Red Cross of the Illinois River Valley stated, "In times of crisis, dedicated Red Cross volunteers spring into action to ensure survivors have safe shelter, nourishing meals, relief items and other essentials to make it through their darkest hours. We are fortunate to have great partners like CITGO powering our work locally and truly making a difference."
The American Red Cross of the Illinois River Valley serves 1,089,318 million people in 5 counties in Northern Illinois including Kankakee, Will, Grundy, Kendall and LaSalle.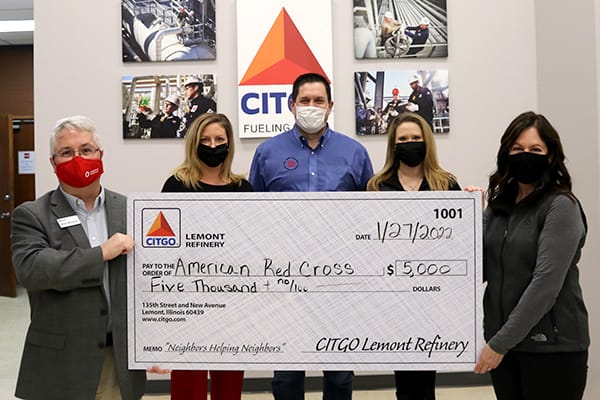 About CITGO
Headquartered in Houston, Texas, CITGO Petroleum Corporation is a recognized leader in the refining industry with a well-known brand. CITGO operates three refineries located in Lake Charles, La.; Lemont, Ill.; and Corpus Christi, Texas, and wholly and/or jointly owns 38 active terminals, six pipelines and three lubricants blending and packaging plants. With approximately 3,300 employees and a combined crude capacity of approximately 769,000 barrels-per-day (bpd), CITGO is ranked as the fifth largest, and one of the most complex independent refiners in the United States. CITGO transports and markets transportation fuels, lubricants, petrochemicals and other industrial products and supplies a network of approximately 4,400 locally owned and operated branded retail outlets, all located east of the Rocky Mountains. CITGO Petroleum Corporation is owned by CITGO Holding, Inc.