Club CITGO Loyalty
Why would you drive past six other gas stations to get to one of ours?
Combine all the rewards and perks of Club CITGO®, quality TriCLEAN® gasoline, and all the ways our locally-owned stations help in your community, the better question may be, why wouldn't you?
Instant Savings at the Pump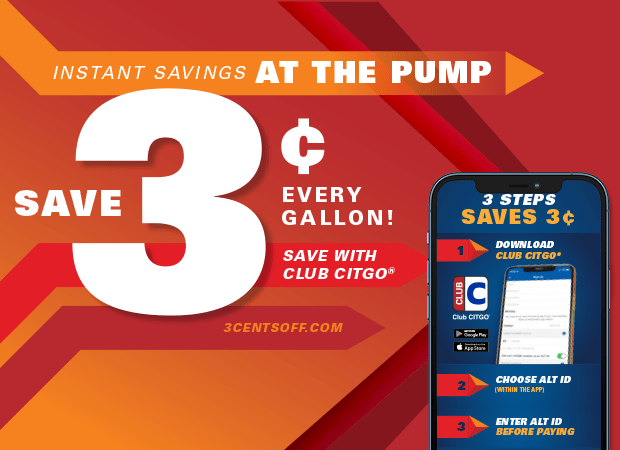 Become a Club CITGO Member
Before paying at the pump or in-store:
Download the Club CITGO app
Sign Up by completing the fields.
Choose Alt ID (It can be your phone number but must be unique to your account).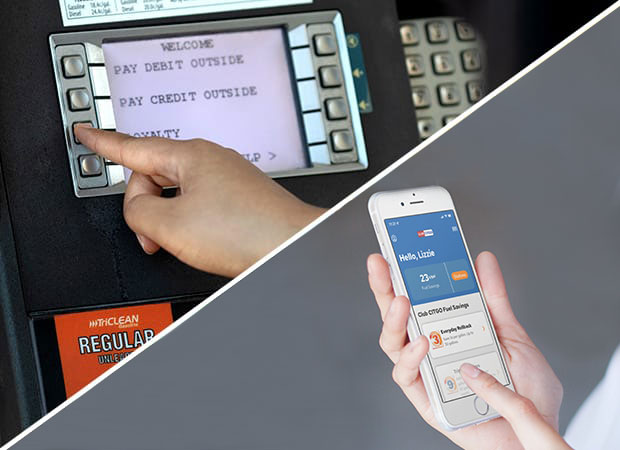 Save with rollback rewards
Saving with Rollback Rewards is easy, no points to track and you can redeem them right at the pump or inside the store at participating locations. To redeem Rollback Rewards instantly, enter your Alt ID every time to have any available rewards or offers automatically applied.
At the pump: Select Club CITGO/Loyalty and follow the prompts to enter your Alt ID prior to paying
In store: Enter your Alt ID on the PIN pad at the register prior to paying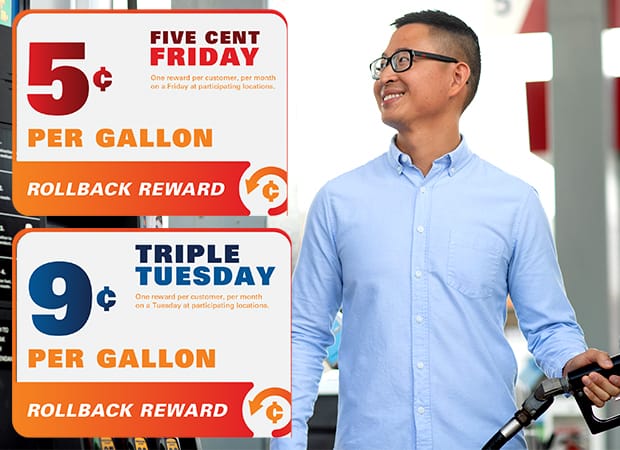 Rewards can stack
Top-off your everyday 3¢ per gallon rollback at the pump with an additional rollback on Triple Tuesdays or 5¢ Fridays.
Each Triple Tuesday and 5¢ Friday reward is limited to Club CITGO members one time a month, up to 20 gallons at participating locations. See offer in the app for details.
Offer only available through the Club CITGO app at participating locations. For more information and complete terms and conditions, see the Club CITGO app. Void where prohibited.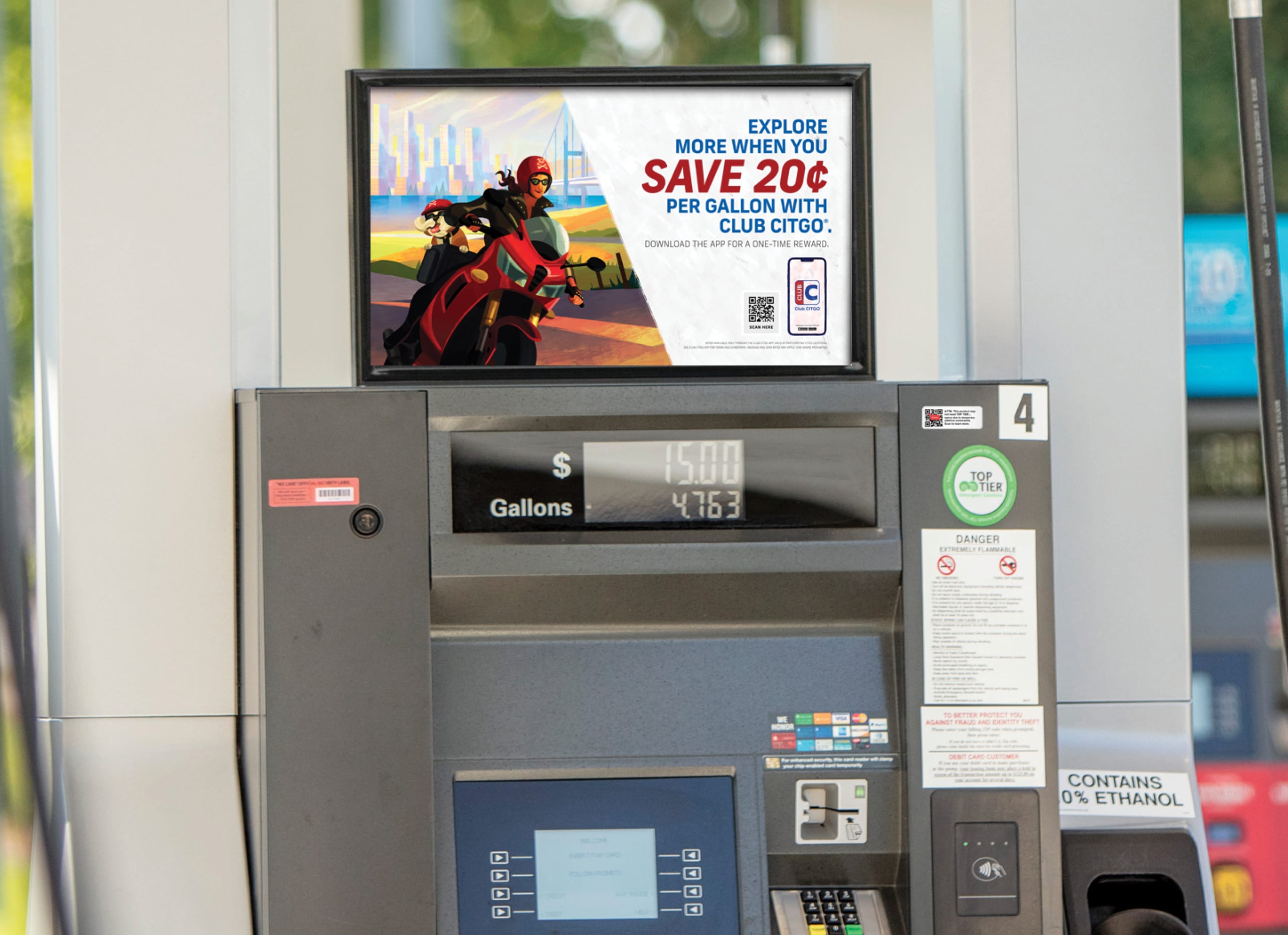 Welcome Offer
Not only is it easy to save with Club CITGO, when you join you will receive a one-time Welcome Reward worth 20 cents a gallon, up to 30 gallons. Enter your Alt ID at the pump to redeem. Instant savings at your fingertips.
Offer available to new members only through the Club CITGO app. Valid at participating CITGO locations. See Club CITGO app for terms and conditions. Message and data rates may apply. Void where prohibited.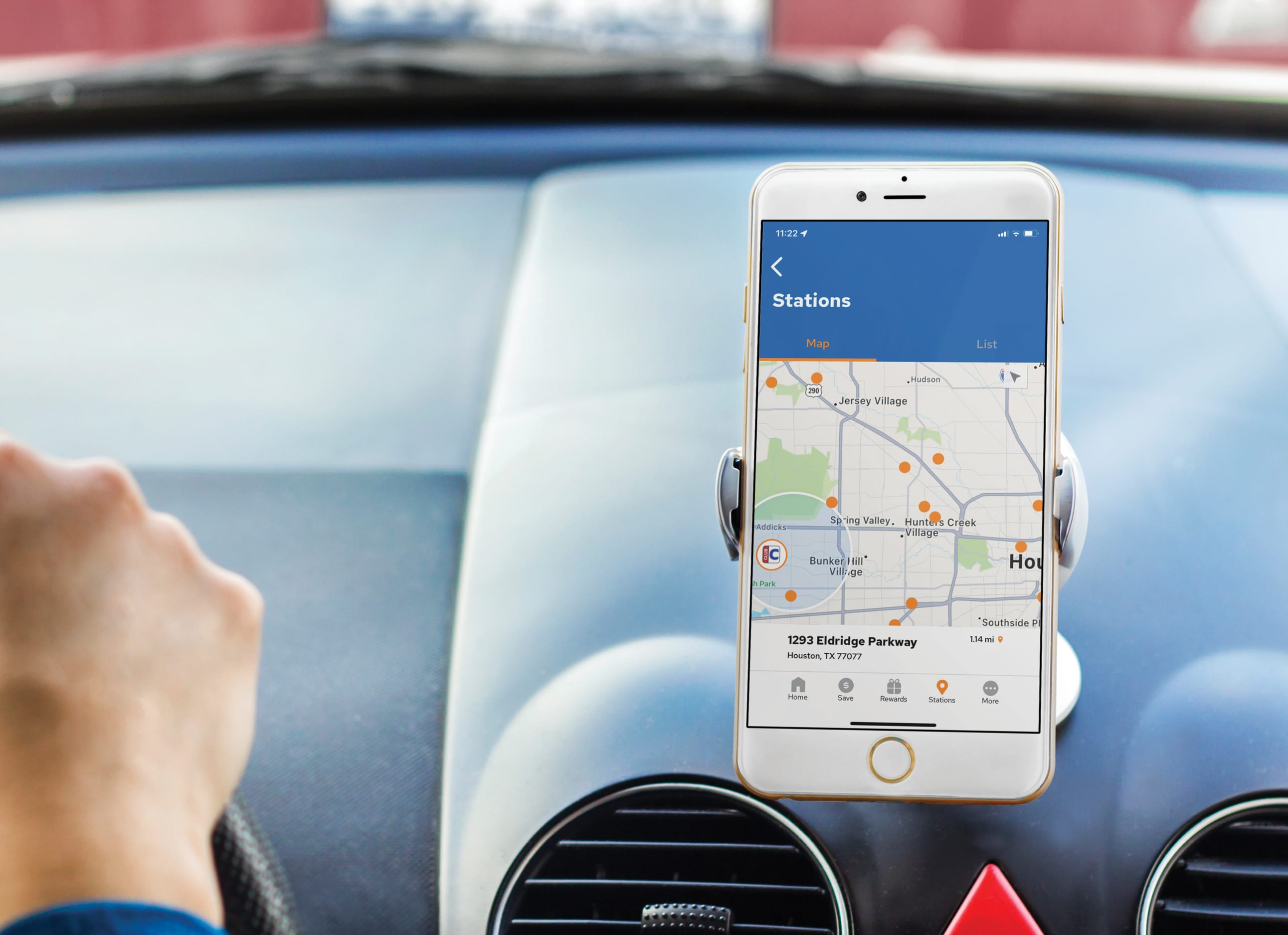 Participating locations
Use the app to find your closest participating location:
From the home screen of the Club CITGO app, tap Stations
Tap your preferred location
The app will display the offers available at this location
Club CITGO Loyalty FAQs
In the Club CITGO app, tap the Stations button, then tap your preferred station. A list of all available offers for this location will display.
Before paying at the pump, select Club CITGO/Loyalty and follow the prompts to enter your Club CITGO Alt ID. For in-store or pre-paid fuel discounts, select Loyalty on the PIN pad screen then enter your Alt ID before paying.
By participating in Club CITGO, we'll add each of your applicable purchases so you can easily track your progress in the app. Simply tap More and then select Redeemed Rewards to see all of your recent activity.
You can reset your password anytime by accessing your Profile information from the More section on the Club CITGO app.
In the Club CITGO app, tap the Forgot Password link and enter the email address you used to register your account. A link will be sent to your registered email to reset your password. If you no longer have access to that email, you will have to register a new account with a new email address.
If you believe your account has been compromised, call Club CITGO customer service immediately. 1-888-246-2582 or
clubcitgo@citgo.com
By turning on location services, the Club CITGO app finds locations closest to your current position. If location services are turned off, the app will find locations near your zip code in your profile home address.
We use push notifications to send you updates on new promotions and ways to earn in your area. If you prefer, you may change the settings on your phone to only allow push notifications to show up in the Club CITGO app message inbox only.
Due to security protocols, the Club CITGO app will not work on jailbroken, rooted or virtual devices. The app also will not launch on Android devices that have turned on debug mode, also known as developer mode. If you have an Android device and wish to check if debug mode is turned on, an online search for "how to find debug mode on android phone" should help provide several articles / videos that reference how to find it.
At this time Club CITGO is only available as a smart phone app. CITGO offers other ways to receive discounts. The CITGO Rewards Card is a credit card that earns you 5¢ on every gallon (subject to credit approval) in fuel statement credits.